Polidal creme
The natural treatment that improves the health of the body and normalizes the inflammatory response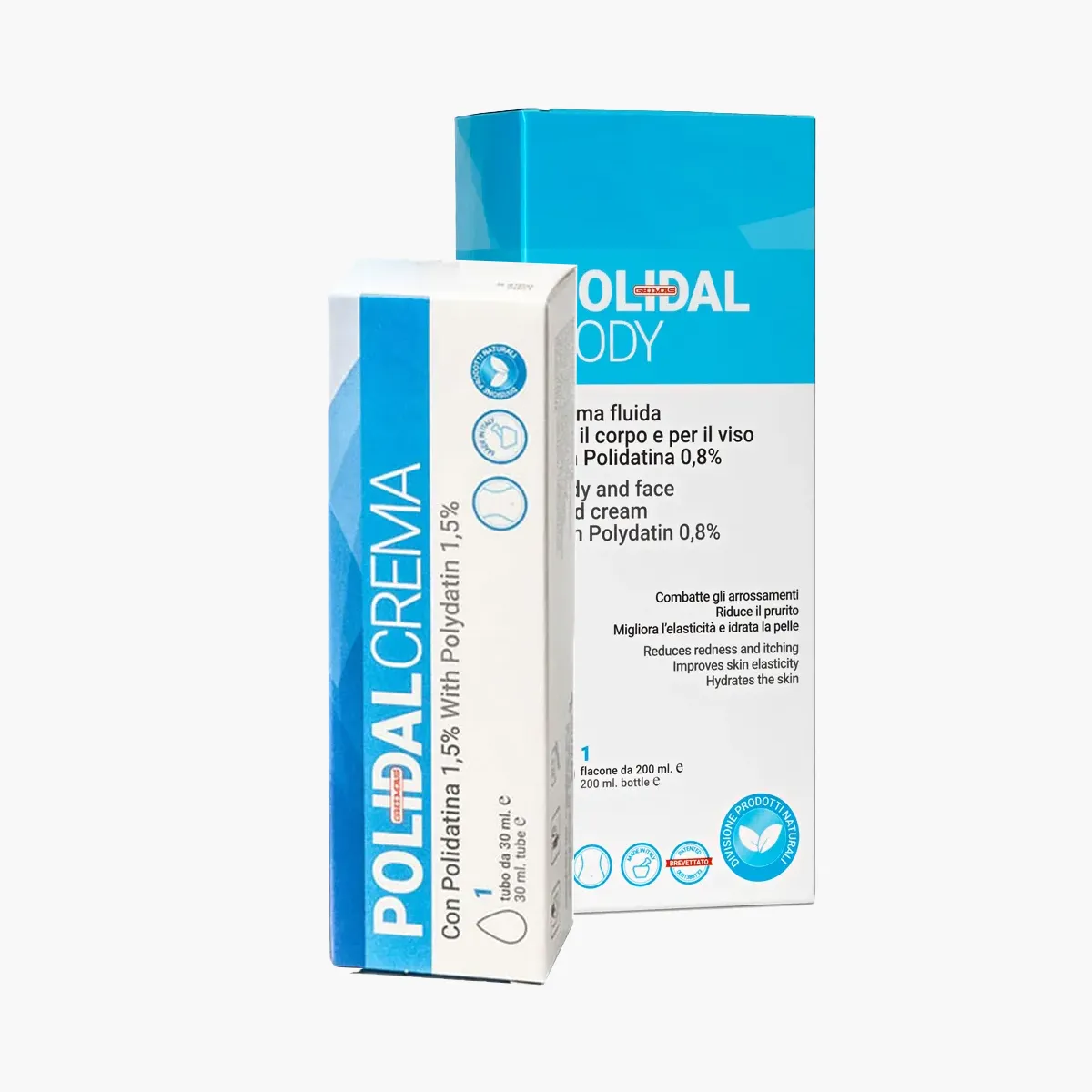 The skin is our first defense against the outside world. Having healthy, soft and resilient skin protects against irritation, inflammation and bacteria. So many factors can make the skin sensitive: a genetic predisposition, exposure to the sun, cold, stress, smoking, allergens, an unbalanced diet, a sedentary lifestyle, and aging. When the skin barrier is damaged, there are many symptoms that can appear: flaking, redness, inflammation, roughness, tightness, itching or burning. With POLIDAL they can be prevented and treated naturally. POLIDAL was created to improve the immune response, neutralize cellular damage and prevent oxidative stress by restoring the proper balance of the skin barrier.

IMPROVES IMMUNITY RESPONSE: There are several causes that can lower immune defenses: excessive cold or heat, humidity, hormonal imbalances, stress, fatigue. With proper nutrition, a healthy lifestyle, and appropriate dietary supplementation, one can considerably strengthen the immune system. Polydatin neutralizes cellular damage, thus protecting the health of the body.

PREVENTS FROM REDNESS AND INFIRMATION: Sensitive skin is more vulnerable and susceptible to factors that can weaken it: bacteria, temperature changes, unsuitable products. To avoid dryness, flaking, tightness, loss of elasticity, or premature aging, it is important to take care of it daily with appropriate products. Polidal strengthens the skin barrier while respecting its PH, boosts the immune system and restores radiance and health.

LENSES IRRITATION: Delicate skin is more prone to redness and inflammation caused by different factors: excessive sun exposure, a food allergy or intolerance, seasonal changes, the use of unsuitable products, stress. The skin in these cases may become rough, flaky, inflamed, or the appearance of erythema and itching may occur. In these cases, the use of appropriate and effective products restores and normalizes damaged skin, restoring health and new beauty.

MAKES THE SKIN BRIGHT AND HEALTHY: Polydatin is the ultimate antioxidant, 50 times more effective than resveratrol contained in grape skins. It restores proper cellular balance, fighting the formation of free radicals, giving skin elasticity, glow and health. POLIDAL has a powerful anti-aging effect and multiple beneficial actions including anti-inflammatory and immune system-boosting properties.

RELIEVES ITCHING: Itching can be caused by a variety of factors, some such as prolonged exposure to UV rays, allergies, insect bites, or dryness, others psychological in nature such as stress and anxiety. Respecting the natural ph, restoring elasticity, and deeply nourishing the skin with the proper products relieves itching and reduces the appearance of spots.